October 12, 2018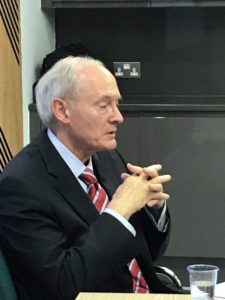 On 11 October, some 35 people gathered at the diocesan offices of the Diocese of Leeds for a lecture by Sir Philip Mawer. Sir Philip was the first Independent Reviewer appointed to review grievances and concerns relating to the operation of the House of Bishops' Declaration on the Ministry of Bishops and Priests. This Declaration was passed as part of the 2014 settlement which paved the way for the passing of the legislation to allow for the consecration of women bishops.
The Declaration enshrines the 'Five Guiding Principles' which deal with how the Church of England, whilst accepting the ordination of women priests and bishops, allows space for those who cannot, on theological grounds, accept their ministry. Although the Declaration is not law, the position of the Reviewer is enshrined in the Ministry of Bishops and Priests (Resolution of Disputes) Regulations 2014. Sir Philip explained that he had not received any grievances from Parochial Church Councils but had received three expressions of concern from others which he had considered and published reports on. These related to separate Chrism Masses, the licensing of a woman priest at All Saints', Cheltenham and the nomination of Bishop Philip North to the See of Sheffield and his subsequent withdrawal.
Details of the work of the Reviewer and his reports are available on the Church of England website, here.
The full text of Sir Philip's lecture is available to ELS members in the Members' Only section.
Paul Benfield