July 4, 2022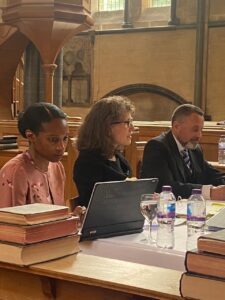 Gordana Balac of the Inner Temple Mooting Society writes:
The Inner Temple Mooting Society hosted the final of its Ecclesiastical Law Moot on Saturday 2 July 2022 at the Temple Church. The competition was kindly sponsored once again by the Ecclesiastical Law Society, with the assistance of the Right Worshipful Morag Ellis QC, Dean of the Arches, Auditor and Master of Faculties, and the Worshipful Mark Hill QC, former Chairman of the Ecclesiastical Law Society, Master of Mooting at The Honourable Society of the Inner Temple.
Sixteen competitors were selected from a large number of applicants, who competed in four heats, two before Master Hill, and two before the Worshipful Ruth Arlow. The winners of each of each moot proceeded to the Saturday's final: Tanvi Sagar and Mohamed Hussein-Iman for the Appellant, and Gabriel Barton-Singer and Sarah Kinsella for the Respondent. The panel for the final comprised the Dean of Arches sitting with Naomi Gyane, Deputy Chancellor of the Diocese of Edmundsbury and Ipswich, and John Murray, Solicitor and Planning Inspector.
The problem, drafted by David Harte, formerly of Newcastle Law School, concerned the extent to which memorial artefacts remained subject to the faculty jurisdiction after their removal from church buildings, and the extent to which one heir-at-law might give good title to a purchaser for value. The quality of advocacy from all four advocates was extremely high, with challenging and engaging questions from the bench in the historic setting of the Temple Church.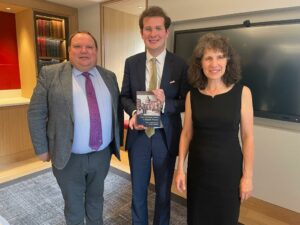 The winner was Mr Gabriel Barton-Singer, Senior Counsel for the Respondent, who impressed the judges with his advocacy and knowledge of the law. The Dean presented Mr Barton-Singer with a cash prize kindly donated by the Ecclesiastical Law Society, and a copy of Great Christian Jurists in English History, co-edited by Master Hill.
The Inner Temple Mooting Society would like to thank the Ecclesiastical Law Society for once again sponsoring this Mooting Competition. We are proud to have partnered with them in hosting this Competition, which we hope to repeat future years. We would also like to thank Morag Ellis QC Naomi Gyane, John Murray, Ruth Arlow and Mark Hill, together with the staff at the Temple Church, and particularly its verger, Matthew Power.