March 22, 2022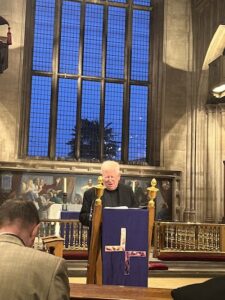 On 22 March, the Ecclesiastical Law Society and the Canon Law Society of Great Britain and Ireland gathered for the Lyndwood Lecture 2022. This biennial event had been postponed from 2020 because of the pandemic, so it was very good finally to be able to meet together again and to hear the lecture. The Revd James Conn SJ, Superior of the Casa Santa Maria in Rome, spoke on the topic "Clergy Discipline in the Catholic Church: Highlights of the new penal law of the Code of Canon Law." Fr Conn's magisterial lecture covered the new Book VI of the Code, giving an expert description of its provisions, setting it into its wider canonical context, and raising some questions for future research or discussion.
The lecture was introduced by the Revd Frank Bradley, President of CLSGBI, and the Revd Stephen Coleman, trustee of the ELS, gave the vote of thanks. The Lyndwood Lecture is one institution that brings together Roman Catholic and Anglican canon lawyers, both of which traditions were represented in the audience for the lecture.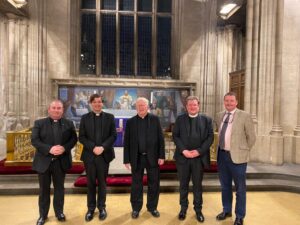 Sadly, the ongoing effects of COVID meant that some people who had planned to attend were unable to do so. Fortunately, the church of All Hallows by the Tower, our hosts, livestreamed the lecture. As well as those present in London, over 250 viewers joined the lecture from all over the world. Questions were taken not only from those present but also, via Twitter, from those watching online. Both societies are most grateful to All Hallows' for making this possible.
A recording of the lecture can be seen online here.