July 20, 2017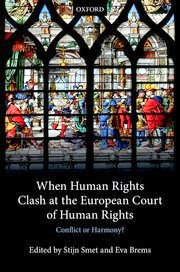 Oxford University Press has just published a new collection on the challenges of adjudicating purported conflicts between particular human rights: When Human Rights Clash at the European Court of Human Rights: Conflict or Harmony?
According to the publisher's description, the contributors address such questions as whether human rights can – in reality – be mutually incompatible, whether they should be interpreted in harmony with one another and, to the extent that rights do conflict with each other, how those conflicts should be resolved. The contributors also look at balancing rights, the extent to which balancing is desirable and, if it is desirable, which understanding of balancing judges should employ.
Quite apart from the general issue of 'clashing rights', three individual contributions may be of particular interest to members of the ELS. Russell Sandberg addresses 'The Future of Religious Freedom', while Javier Martínez-Torrón and Ian Leigh each offer analyses of Fernández Martínez v Spain – about the former Roman Catholic priest dismissed from his religious education post after a newspaper published a photograph of him, his wife and their five children attending a meeting of the Movement for Optional Celibacy.