30 April 2024, 17:30 - 18:45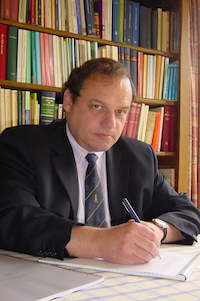 Professor Jan Hallebeek will speak at this online lecture on "Introduction to the Canon Law of the Old Catholic Churches (Union of Utrecht)".
Professor Jan Hallebeek brings a lifetime of experience in studying and teaching canon law:
Study of law at Utrecht University, 1978 LL.M., 1986 Dr. iur. on a doctoral thesis on the justification of private property in the works of Thomas Aquinas
1980-1986 Lecturer in Roman Law at the Catholic University Nijmegen
1986-1989 Lecturer in Roman Law at the Vrije Universiteit Amsterdam
1988-2016 Lecturer in Canon Law at the Old Catholic Seminary, Utrecht
1989-1999 Research-Fellow of the Royal Netherlands Academy of Arts and Sciences
1997-2006 Extraordinary Professor 'Ancient Structures of the Catholic Church' at the Faculty of Theology of Utrecht University
1999-2019 Full Professor of Legal History at the Vrije Universiteit Amsterdam
2003-present Deputy Justice in the Court of Appeal at 's-Hertogenbosch
This Zoom lecture is open to members and non-members and is free of charge. Booking through this website closes 24 hours before the event. Please book using the form below. The day before the event, Zoom invitations will be sent out by email to those who have booked.
(Please note the date of this lecture has been changed to 30 April 2024).
Do you already have an account with us?
Sign In
Log in if you already have an account with us.