February 8, 2023
The Institute for Ecumenical Studies of the Angelicum, Rome, hosted an International Ecumenical Conference "Listening to the West" 26-28 January 2023.
Organized under the patronage of the Dicastery for Promoting Christian Unity and the General Secretariat of the Synod, the Conference included more than 40 theologians and canon lawers. The participants contributed various experiences of synodality of the mainline Western Christian communions, as an academic ecumenical consultation for the current Catholic synodal process. As part of the method of receptive ecumenism, Catholic listeners drew out points of listening and learning from the contributions.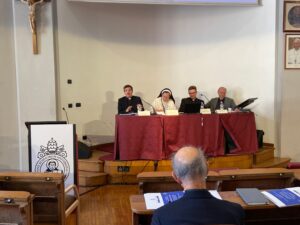 The Ecclesiastical Law Society was well-represented among the participants at the Conference. The Anglican keynote was given by long-time member the Revd Dr Paul Avis, with historical, canonical, and pastoral approaches offered by former Journal Editor the Ven Will Adam, Communications Officer the Revd Russell Dewhurst, and President the Rt Revd Christopher Hill respectively.
A recording of the entire conference can be seen on Youtube here:
Anglican and Lutheran https://www.youtube.com/watch?v=D-5dFbJvNBA
Reformed and Methodist https://www.youtube.com/watch?v=KdGSoeU8HKc
Old Catholic https://www.youtube.com/watch?v=D-5dFbJvNBA
The papers are expected to be published in due course, to contribute to the papers for the Synod of Bishops of the Catholic Church in autumn 2023.