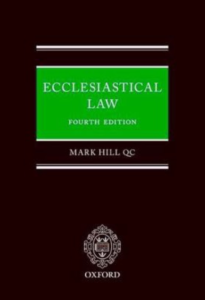 In consequence of overwhelming demand, Oxford University Press has been prevailed upon to reprint for a fourth – and in this case final – time the special paperback edition of the fourth edition of M Hill, Ecclesiastical Law. This can be purchased from the Ecclesiastical Law Society for £40.00 inclusive of postage and packing.
The content and appearance of the volume is identical to that of the hardback version which retails at £150.00.
This special limited edition can be ordered using the form below. If you would like to buy more than one copy please contact the administrator:
We are sold out of the Ecclesiastical Law Special Paperback Edition.