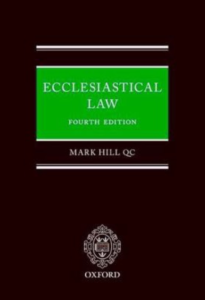 Oxford University Press has generously agreed to produce a special paperback edition of the recent fourth edition of M Hill, Ecclesiastical Law which can be purchased from the Ecclesiastical Law Society for £40.00 inclusive of postage and packing. The offer is only open to members of the Ecclesiastical Law Society or members of the General Synod of the Church of England.
The content and appearance of the volume is identical to that of the hardback version which retails at £150.00.
This special limited edition can be ordered using the form below. If you would like to buy more than one copy please contact the administrator:
We are currently sold out of the Ecclesiastical Law Special Paperback Edition.