September 13, 2023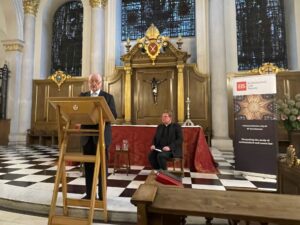 On Wednesday 13 September, the Worshipful David Etherington KC, Chancellor of London and Norwich, delivered a lecture to the Ecclesiastical Law Society. This lecture had originally been scheduled for 2022, but was postponed following the death of her late Majesty Queen Elizabeth. It was therefore much anticipated, and a large number of members and guests gathered at St Mary-le-bow Parish Church in London to hear the lecture.
Illustrated with many insights from his experience as an ecclesiastical judge, Chancellor Etherington's lecture continued the conversation begun by the then Dean of the Arches, Charles George, in a lecture in 2019. We were invited to reflect on the advantages of the current system in deciding faculty cases. The conversation continued with questions from the floor, and over drinks following the lecture.
The Society is most grateful to our lecturer, and to St Mary-le-Bow for hosting the event. Details of the coming year's London lectures will be posted to our website soon.