September 18, 2018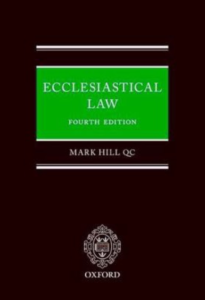 Oxford University Press has generously produced a special paperback edition of the recent fourth edition of M Hill, Ecclesiastical Law, which can be purchased from the Ecclesiastical Law Society for £40.00 inclusive of postage and packing. The offer is only open to members of the Ecclesiastical Law Society and members of the General Synod of the Church of England via this web page.
The print run was initially limited to 100 copies, but due to exceptional demand, a further print run of 50 copies has been ordered. Copies ordered now are expected to be dispatched in late October.
The content and appearance of the volume are identical to that of the hardback version, which retails at £150.00.